Ocho de Marzo
8 de marzo de 2002.
Hoy es viernes. Ocho de Marzo. No hemos tenido prácticamente clase porque había excursión a la nieve. A primera hemos tenido Ética y después nos hemos ido. No había S.C.R porque Esperanza estaba en la excursión, a Matemáticas hemos pasado de ir, normal. Después del recreo teníamos dos horas de Inglés, pero también la Urquidi estaba en la nieve, y a última lo más probable es que Krysia no viniese porque su padre sigue enfermo.
Por la tarde hemos quedado David, Carlos Pérez, Matías, Guille, Lir, Jose y yo en Pío XII. En el metro hemos conocido a Carlos Lozano que nos ha contado su vida, y en el vagón, junto a la puerta que no se abre, se ha puesto a saltar mientras cantaba "Bullet with butterfly wings". Al salir del vagón me ha tocado el culo y Lir se ha ofrecido a golpearle con su tabla.
Hemos llegado a Sol y en "Flipa doble" Guille se ha comprado una camiseta de los Red Hot Chili Peppers y Lir una bandera de Iron Maiden. Luego hemos ido al Pan's and Company y hemos tomado algo hasta que Sara nos ha llamado para decirnos que venía. Hemos quedado con ella bajo el reloj de la Puerta del Sol así que hemos ido ahí a esperarla. Mientras, estos, en tríos, han echado una batalla a triple caballito. Se han caído todos al suelo. Sara ha venido un poco triste y hemos tratado de animarla. Después nos hemos sentado a esperar a María Ayllón y a Tania. Cuando han llegado nos hemos dirigido hacia Cibeles haciendo el capullo por la calle. Matías iba saltando con la bandera de Lir como capa, las gafas de sol de Jose y un semáforo de cartón amarillo. Hemos cruzado la calle a la pata coja y en Banco de España, cerca de nuestro parquecillo, nos hemos metido en una cabina telefónica Matías, Guille, Lir, David, Carlos, Jose y yo, mientras Tania, María y Sara miraban. También he tratado de echarle una carrera a Guille, pero se ha rajado y me he quedado corriendo sola. Después nos hemos ido cada uno a su casa.
Espero que dentro de tres años, cuando ya no estemos en el instituto y casi ni nos hablemos, me acuerde de lo bien que me lo he pasado hoy.
P.D: El jueves es el cumpleaños de Guasón.
Teresa.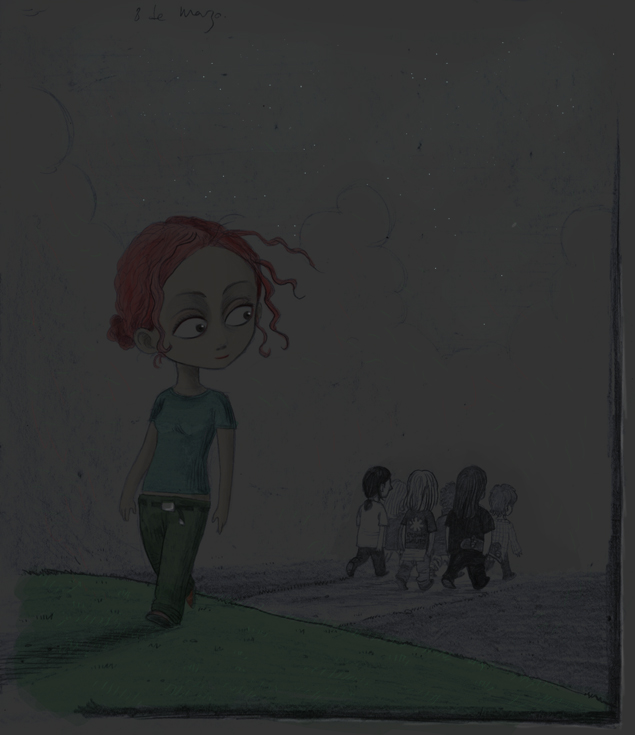 Ocho de Marzo. Agosto 2007.
Escrito por Xabier a las
8:00 PM
|
Comentarios (0)